Important information: New library software for DOK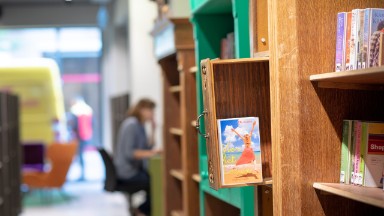 DOK is closed on 12 April 2021
Dear readers,
To be able to keep up with new developments and changing needs in the world of library services, DOK will transition to a new library software system on 13 April 2021. We have chosen the provider OCLC Wise. This library software system will enable us to work more efficiently and to offer our members even better service.
We would like to tell you about what this transition will mean for you in a series of three messages. We hope this will make the transition as smooth as possible for you! In this first message we will cover the following:
What does this transition mean for you?
Save your borrowing history!
Future developments

Visit the page with the latest information
What does this transition mean for you? DOK is closed on 12 April!
In the weekend of 10 and 11 April DOK will transition to Wise, the new library software system. Work on the transition will start on Saturday 10 April after 6 pm and will take until Tuesday 13 April. This means that both DOK locations (OPEN and Voorhof) will be closed on Monday 12 April:
reserved material or book packages cannot be collected
books cannot be returned
The new library system also needs to be set up on our website. This means that from Saturday 10 April at 4 pm until Tuesday 13 April the website will only be accessible for reading news and tips.
MijnDOK will not be available: books cannot be borrowed online or reserved, and borrowing via the online library (audio books and e-books) is not possible for DOK members either.
On Tuesday 13 April at 10am everything will be accessible again as usual, within the constraints of the corona measures then in place.
Future developments
What will change after the transition? The new system Wise will ensure we can improve our service to you. Moreover, there will be many more things you as a DOK member will be able to do yourself online and more ways to interact with our collection. This is why we look forward to the transition to Wise:
there is much more to see and do with the DOK collection on the website
ease of use for members is greatly improved
there are more interesting possibilities in MijnDOK
and soon there will also be an app available!
Visit the page with the latest information
We have developed a special information page on our website, where you will be able to find all the information about the transition to the new library system. This page will be continuously updated with new tips and FAQs. The preliminary version is already available.
You will receive the next update on 2 April 2021. In this message we will explain more about the transition to Wise and we will clarify the most important matters.
If you have a question now, please visit the page with the latest information on our website or get in touch with our customer service via info@dok.info